Mikołaj Stasiak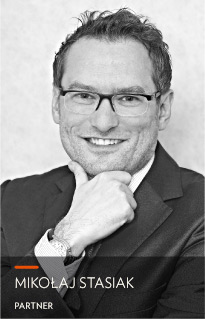 For a number of years Mikolaj Stasiak worked in the Office of Competition and Consumer Protection where as a deputy director he co-headed the Department of State Aid Monitoring.
Mikolaj is an author of legislation concerning State aid in Poland, both procedural regulations and aid schemes. He created the concept of implementation of EU State aid system to Polish national law, also with regard to Structural Funds. Mikolaj also participated in negotiations of conditions for Polish membership in the EU.
Mikolaj was a Member of the Supervisory Boards of the companies managing the Special Economic Zones in Poland.
In years 2004-2006 Mikolaj worked at Permanent Representation of the Republic of Poland to the EU in Brussels where he was responsible for the competition field. He conducted a number of proceedings before the European Commission and the ECJ in State aid cases.
As an expert in the European Commission he conducted proceedings leading to decisions approving aid measures in the Member States.
Mikolaj was a speaker on numerous conferences and trainings in Poland and abroad. He is an author of a number of publications and articles concerning State aid issues.